Kitchen remodel often includes the addition of a new dining room table – even if there's no formal dining room to speak of. Or, we've found that a brand-new kitchen remodel makes the dining room look dull or outdated, calling for a new coat of paint and new pick-me-ups.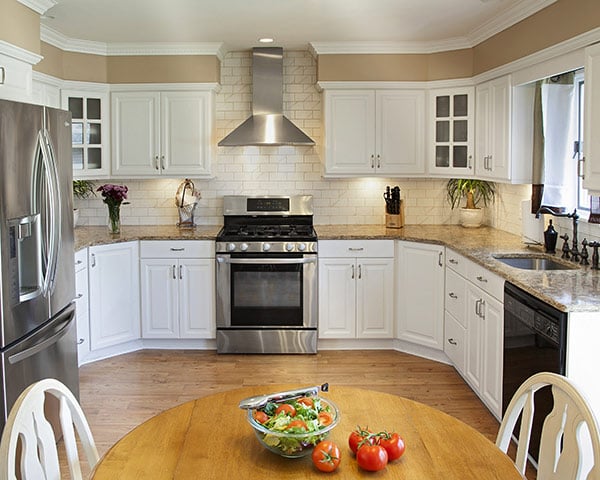 How do you choose a dining room table that fits your style?
Dining room tables are included in most open floor plan concepts for homes so you're probably planning to add one to yours. We'll skip the "Looks" portion of this guide. You know what you like and what you don't. If you didn't before, you certainly figured it out as you waded through those remodeling selections lists!
Choosing a dining room table is all about shape, size, and proportion. So, let's get started.
Shape the table to match the space
Unless you're going totally custom, you'll have four basic choices: rectangle, oval, round or square.
Rectangle: This is the traditional option. If you often host large crowds, look for a version that uses extension leaves for larger gatherings. Opt for narrower, rather than wider, as it creates a more intimate feel. 28-inches wide or wider is ideal.

Oval: This is a softer take on the rectangle, which can be a good way to provide contrast in linear designs. We like them because last-minute guests are easily accommodated without any sharp corners involved.

Square. These are more unique, although they're increasingly popular. Adding a leaf will turn it into a larger rectangle when you need it. Consider the fun contrast of the square table

with a useful space addition such as a lazy Susan

in the middle.

Round. Another fun option; we're seeing more and more round tables as

kitchens get more social spaces again

. That's because round tables are the most intimate and make it easier for all of your guests to see/hear one another. Look for a table that's at least 48-inches in diameter if you want it to comfortably seat more than four. Or, you can opt for a smaller version that has an extension leaf when you need it.
Typically, it makes the most sense to match the table shape to the shape of the space where it will live. If the space is longer than it is wide, use a rectangular or oval table. If the shape of the room or dining area is square, opt for a square or circular table.
Size your table to suit your needs
Size definitely matters if you'd like to sit in comfort, without bonking elbows while you eat, and without sliding into walls or furniture when you approach or leave your chair.
Here are things to remember when looking for the right US kitchen remodeling solution:
Think 36- to 48-inches. Leave no less than 36-inches, 48-inches is better, between the table edge and walls or furniture edges. That way everyone has room to slide chairs out when they get in and out of their seats.

Entertainers should prioritize pedestals. Pedestal bases will leave more leg room for squeezing extra guests in.

Leave two-feet per person. To dine comfortably, factor in about 2-feet of horizontal table space per person.

Small, but comfy seating. When it comes to seating, search for lower-profile, comfortable chairs. Low

bar stools are a great seating option

for adding those last-minute guests. Benches are another option for smaller spaces.
Don't hesitate to ask your kitchen contractor for advice. They can significantly help you narrow down your options.
Who can I hire if I need a reliable kitchen remodel?
As recognized kitchen remodeling contractors, you can rely on the Kitchen Magic team to use some of the finest industry methods. We'll create an improved cooking space utilizing precise measurements and high-quality tools for your peace of mind.
Thanks to our free initial consultation, you'll know your makeover or kitchen addition cost as soon as our consultant takes a look at your space and gets to know your needs. Whether you want an island, peninsula, built-in appliances, storage solutions, open shelving, or all of the above, we'll be there to make it possible. Call us or request your free initial consultation today!