The integral sink is a popular kitchen trend for contemporary and minimalist home design. Integral sinks do look sleek and spare, ideal with these types of homes, but there are other great reasons for choosing an integral sink. It is a style that perfectionists everywhere can love for any home style as these sinks come in a wide variety of materials and sink shapes.
One of the best reasons to choose an integral sink is that you can avoid the troublesome lip between the counter and the sink that collect dirt and grime in undermount sinks.
What is an Integral Sink?
An integral sink is one that is made from the same material as the surrounding countertop. This often means that the sink and the countertop are one piece. That is why this style is also called an integrated sink.
Most integrated sinks are crafted from materials that are flexible enough to be molded into different shapes. Though there are also integral sinks made from natural stone materials that are bonded with the countertop in such a way that there is no visible break between the integrated sink countertop and the sink itself.
Materials Used for Integral Sinks
Integral sinks are a special variety of sinks that must either be of one piece or must create the illusion of one piece with the counter. Certain materials lend themselves better to this than others. With most integrated sinks, you can customize them to work with different size kitchens and integrate certain features such as a sloped area to create a drainboard sink.
---
Stainless Steel
Stainless steel sinks are some of the best sink varieties in terms of durability and price. They are long lasting, antibacterial, and low maintenance all for a price that is less than other materials. Integrated kitchen sink options from stainless steel are one of the most popular of its kind for industrial kitchens because of their ability to withstand a high level of activity.
For a stainless steel integrated sink, the sink is welded on the counter and then brushed to create a seamless look. Most fabricators use 16 to 18 gauge stainless steel for the most durable finish.
---
Quartz
Quartz is a variety of engineered stone that is made from ground particles of quartz mixed with a resin to bind it together. Quartz is a durable material that is more cost effective than natural stones like granite or marble.
Quartz makes an ideal integral sink material as it is not just durable, but non-porous and available in many different colors and vein patterns that work with various home styles. Quartz is popular as both an integrated bathroom sink or kitchen sink. Look for popular quartz integrated sink brands such as Silestone and Corian integrated sink options.
---
Granite
Granite or granite composite is one of the most popular materials for integral sinks. Granite composite sinks are durable and beautiful. These integrated sinks are a blend of natural stone with resin to bind it together. Contrary to their luxurious style and design, granite integrated sinks are one of the most affordable options.
Granite is heavy, so granite integrated stone sink options will need to be reinforced with structural support. Granite is also a porous material. You will need to seal both countertops and the sink on a regular basis in order to keep them looking their best.
---
Acrylic
Acrylic is a durable plastic material that manufacturers mold into integrated sink vanity top options popular in bathroom settings. Acrylic is non-porous so it is stain and chip resistant making it ideal for hard-wearing locations like children's bathrooms.
This is a light-weight material meaning that it is easy to install. It also is available in a variety of color and size options. Acrylic is not heat resistant meaning that it does not work as well in kitchen settings.
---
Marble
Marble is a natural stone that is popular as both a sink and countertop option. Integrated sinks and countertops are not fabricated together. Rather, they are crafted out of the same material and blended together to give them a seamless look.
Marble is a beautiful and hard natural stone, but it can chip, stain, and scratch easier than harder materials like quartz or granite. This is also one of the most expensive varieties for integrated sinks and countertops.
Consider a cultured marble vanity top with integral sink if you like this look, but not the delicacy or expense. Cultured marble is an engineered faux marble made from marble dust and resin binders. This gives you the look of marble without the same cost. Using this material, manufacturers can mold the sink into the countertop to create an integrated sink vanity.
---
Concrete
Concrete for integral sinks are a recent trend that combines the industrial look of concrete with more tailored interior design styles. The wonderful thing about concrete integrated sinks is that you can customize these in almost any shape, color, and size as it is such a malleable material.
Some concrete integrated sinks are reinforced with glass fibers to create a more durable finish, but the finish will never be as durable as granite or engineered stone like quartz. Concrete is a porous material that needs to be sealed on a regular basis to maintain its surface integrity and resistance to moisture and staining.
---
Copper
Consider copper if you are interested in a unique bathroom vanity with integrated sink. Copper is also an option for kitchen areas. Copper is a classic material that will develop a patina over time. Copper is durable, antibacterial, and easy to maintain with just soap and water. Investing in the good quality copper sheeting is the best way to ensure that your sink and countertop are resistant to scratches and dings over time.
Copper will discolor if exposed to certain types of food. This is easy to handle by buffing stains away with olive oil and wax polish.
---
Tempered Glass
Tempered glass vanity tops with integrated sink options are becoming a popular option for bathroom areas. Tempered glass, unlike standard glass, is a strong and durable material. It is difficult to scratch or chip tempered glass and it is resistant to heat. Tempered glass countertops have smooth edges and molded shape with a seamless edge between the sink and countertop.
Tempered glass sinks are more difficult to keep clean and fingerprint free because of their clear texture.
---
Cost of Integral Sinks
Integral sinks cost anywhere from $100-$300 per sink. Yet, this will increase according to customization and material. In general, you should budget around $100-$150 per square foot for integral sinks and countertops plus the cost of installation which will vary according to the installer.
---
Integral Sinks Pros and Cons
Integral sinks, like all types of sinks, have advantages and drawbacks that you need to consider before you invest in this style for your kitchen or bathroom.
Pros
Variety of options – Integrated sinks are popular options, so there are many choices available. This means that you can choose integrated sinks for almost every variety of home design.
Customizable – Fabricators can create sinks and countertops of almost any size and design using materials such as copper, stainless steel, or concrete that they can mold into specific designs.
Style – Integrated sinks have a sleek and spare style that gives your home a custom and elevated appearance.
Maintenance – Between integrated sinks and countertops, there is no seam as with undermount sinks that can trap food and dirt.
Cons
Cost – The cost of integral sinks is more than for just a single sink form.
Repair – Because the sink and counter are connected, if you damage one, you will have to replace both. If you don't have the budget to replace the sink and countertop, you will have to live with them both until you can afford both.
---
Integral Sinks in Home Design
You can find integrated sinks in many areas of the home, including bathrooms, kitchens, and laundry rooms. Use different materials to accent the unique look of these spaces.
Quartz Integral Sink and Countertop
Quartz countertops do not have to have a cold and sterile look. Pair them with warm wood cabinets to create a look of contrast and textural interest.
Stainless Steel Integral Kitchen Sink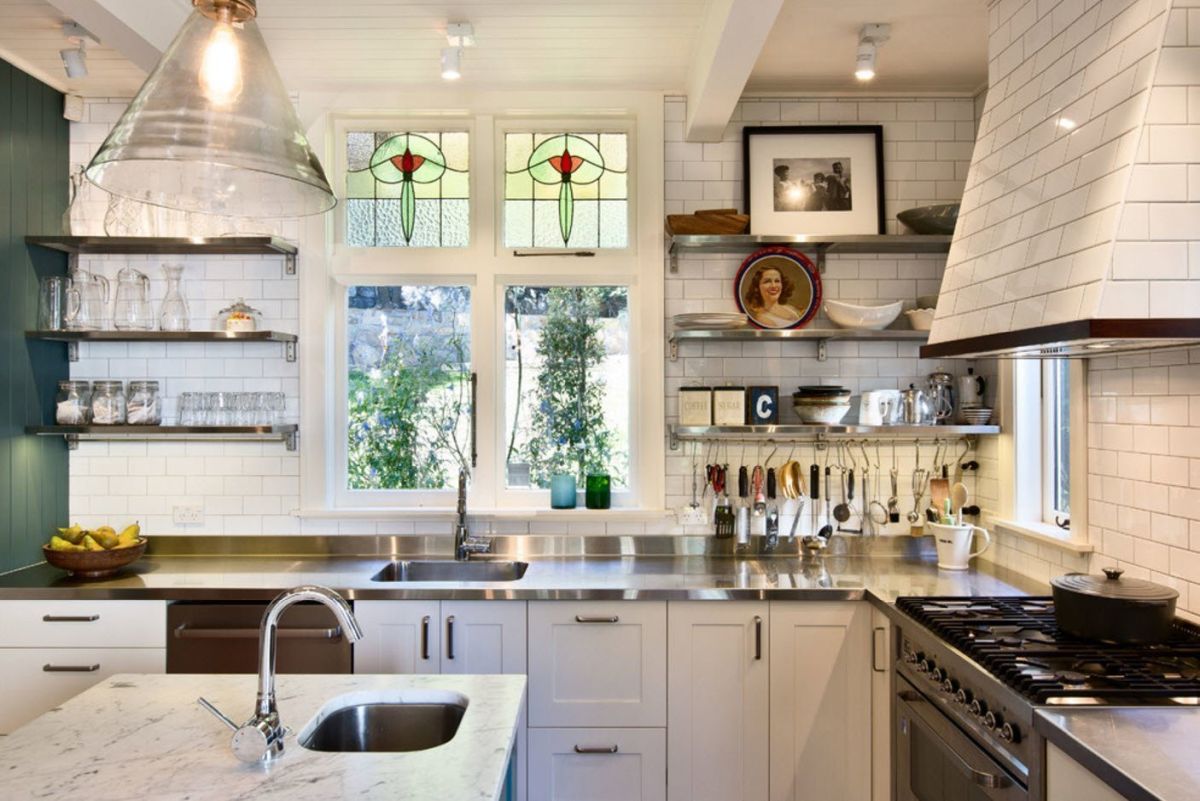 People have a false idea that stainless steel sinks and countertops always create a look that is industrial and utilitarian. Andrew Cox combined the stainless steel countertops and integrated sink with a variety of warm textures like stained glass windows and open shelves to give the kitchen a warm style.
Custom Vanity with Integrated Sink Made from Copper
Post 31 Interiors used copper to create a custom vanity with an integrated sink. This copper has a patinaed finish that works well with the bathroom's rustic and relaxed style.
Contemporary Marble Integrated Sink and Vanity
Integrate the look of the sink and countertops by using the same material for the walls and the floor. Using this high contrast marble gives this bathroom a classic but trendy style.
Concrete Bathroom Vanity and Integral Sink
Concrete does have an industrial edge that works well in contemporary-style homes. Pair a concrete vanity with luxury textiles to create a look of textured contrast.
Copper Kitchen Sink and Countertops
Copper is a viable kitchen choice for countertops and integrated sinks. For this Chelsea loft, the designer used copper to give the kitchen an industrial edge with a warm vibe. It contrasts with the gray cabinets with a mix of warm and cool color tones.