Although cabinet styles and colors are usually the main ingredients home renovators focus on when trying to spice up bland cabinetry, many other options exist. One of these is cabinet fluting.
Cabinet fluting is a type of vertical wood molding that can serve decorative and/or functional purposes. The term "fluting" refers to three or more shallow or deep vertical grooves on the face of the molding reminiscent of Greek and Roman column architecture. This design is also used on certain styles of table legs and non-cabinet kitchen columns.
So, if you're considering custom cabinets and wondering if fluted ones are for you, read on and find out!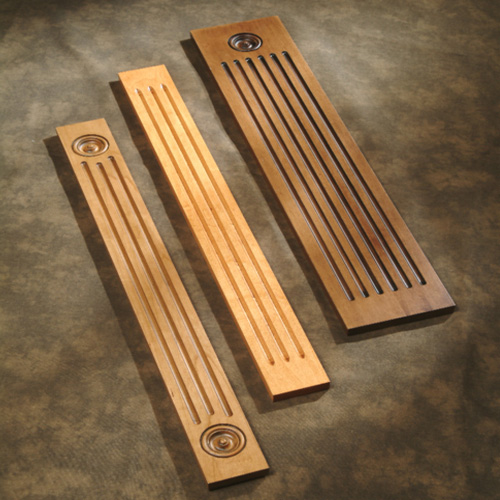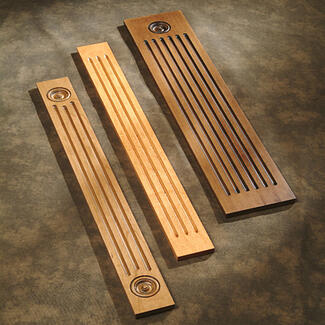 What does fluting mean in furniture, in particular cabinets?
Based on the context and fluting usage, you might hear cabinet fluting referred to as cabinet fluted strips, cabinet fluted filler, cabinet fluted panels, or cabinet fluted columns or pillars.
Cabinet fluted strip

: Typically used to describe

the shape of the molding

. You can use fluted strips to decorate the edges of cabinet faces and between cabinet door and fake fronts; or to double as cabinet fronts.
Cabinet fluted filler: Fluting strips used to cover or "fill" gaps in cabinetry that occur in pre-manufactured cabinets, and in cabinets that have experienced structural changes over time.
Cabinet fluted panel: Sometimes used to describe fluting in general. Also used specifically to describe strips that double as functional cabinet fronts, such as when used on narrow pullout racks.
Cabinet fluted column/pillar: Common usage as a general description because of the similarity to fluted columns and pillars. The term is also often used to describe molding that, like a column or pillar, runs the entire vertical length of joined floor-to-ceiling cabinetry or a tall standalone piece.
Cabinet fluting styles vary depending on the number of grooves. You can also expand style options with custom-engraved designs or decorative caps, also known as crowns or rosettes, at the top and/or bottom of the strips. When cabinet fluting doubles as a functional cabinet front, you can further customize with a knob or pull in the color and material of your choice. Reversible fluting is also available with grooves on one side and a beaded design on the other to provide an easy decorative change without the purchase of new molding.
Who provides high-quality custom cabinets near me? 
Choosing a simple but modern kitchen cabinet design requires a lot of effort – it not only determines your kitchen's style, but also its durability and maintenance requirements. Do not worry, though! Choosing Kitchen Magic means getting long-lasting cabinets that are fully customized specifically for you. Our experts can help you select materials, colors, and finishes that fit seamlessly with the rest of the kitchen design. Call (866) 525-0012 today to discuss what you have in mind!