A backsplash can make – or break – your kitchen design. Okay. So maybe that is a little melodramatic; however, we will say that we've seen some mismatched backsplashes that would make you want to throw your hands up and say, "Holy Gnome!" The thing is, some things are better conceptually than they are in real life. And since kitchen counter backsplashes are (relatively) permanent, the best way to get one you're happy with is to – well – get one that matches your countertop for gosh sake! 
Whether you're aiming for a luxurious and expensive look or you prefer a trendy kitchen on a small budget, you want to find the best way to match your countertop and backsplash successfully. Let us tell you a little story about Dick and Jane and help you resolve this kitchen remodeling mystery once and for all.
What kind of backsplash goes with Corian countertops?
Dick and Jane pined for a smooth and warm Corian solid surface countertop for years. They saved until they were able to purchase the perfect Corian Countertop. Jane thought, "You know, with the right tiles, I could come up with an amazing mosaic backsplash that will inspire Dick to finally start cooking dinner for me!" And so, Dick and Jane settled on a gorgeous Corian countertop ("Rosemary" from the Corian Private Collection with a variety of colors and styles, in case you were wondering…). Jane painstakingly selected tiles that would look perfect with the greeny-tanny-rusty colors in their Corian and got to work. The kitchen backsplash idea was gorgeous! The countertop surface was a hit!
But alas, something just wasn't quite right. So there they were, stuck with a lot of time, effort, and money on a lovely mosaic backsplash that didn't really "go."
The moral of the story: Dick and Jane didn't come to Kitchen Magic for some design forward, experienced advice on what type of solid surface backsplash is suitable for her kitchen countertop.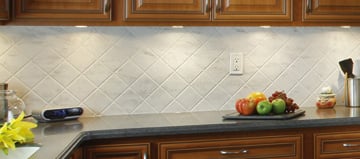 The Best Backsplash for a Corian Countertop is…
A Corian Backsplash!
Of course, there are exceptions to every rule. But for the most part, if you're going the route of a Corian Countertop, one of the numerous Corian backsplash options is usually your best match. Corian has a very specific texture and finish. These make it challenging to get a tile of any kind that really ties in with a Corian surface. But in case you're bored with the idea of your backsplash being a perfect match with your countertop, don't worry.
There are other options:
Corian Tile Backsplashes
Hurray! Just to make people like you happy, there are Corian backsplashes made to look like tiles, and they don't have to be a perfect match with the Corian patterns you choose.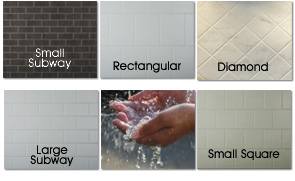 Backsplash Accents
Rather than building an entire backsplash masterpiece, poor Jane could have put her efforts into an attractive backsplash accent. Then her mosaic would have been more integrated into the general theme.
Who performs detail-oriented kitchen remodeling?
Don't be afraid to ask for help If you aren't exactly sure about what goes with what in your dream kitchen. Take a lesson from Dick and Jane; give us a call and we'll tell you how to choose a kitchen countertop color easily or help you with any other issue and give plenty of kitchen remodeling ideas. 
We're a reputable company that boasts over 40 years of experience and numerous cooking areas designed and renovated per the client's preferences. We make sure your space is safe and sanitized during the whole process and after the work is done. 
Give us a call or fill out our easily accessible online form and we'll gladly help you put together a kitchen you'll be proud of.